Hi! I am Atticusmitchell-hot!:) and I love Criminal Minds, like everyone else on this wikia!
My fave character is Spencer Reid . He is smart and cute and I love his converse!!!!
I really don't have a character that I dislike or hate, if I want to use a stronger word.
My fave episodes are: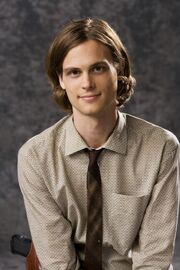 1. Season 2 episode 14- Revelations (because it was Reid related and very emotional since Reid was tortured and was forced to take drugs.)
2. Season 3 episode 8- Penelope (because it was about Garcia and I thought thta it gives us more insight about her life even if she does get shot by a policeman. Plus JJ's shooting skills were awesome!)
3. Season 6 Episode 18- Lauren (because Matthew Gray Gubler directed and it was a really good and very emotional episode.)
4. Season 1 Episode 18- Somebody's Watching (because it was nice that Reid had an episode where his a crush and she like him back and AAWWW...)
I originally went the My Babysitter's A Vampire wikia first (where I am a chat moderator there) and that explains my name. I found out about this wikia after I went to the My Babysitter's A Vampire Wikia. But I've always loved Criminal Minds WAYYYYY before My Babysitter's A Vampire (no offence to any MBAV fans).
So thats basically what I like and I'd be happy to talk to anyone on my talk page, so peace! I'm OUT!!! :)
Ps. CHECK OUT MY TWITTER AND FOLLOW @heartsnsmileys