"
More than praying we discussed work, politics, the war in Iraq ... [W]e always had new films of the war in Iraq ... [M]ore than anything else those in which you could see Iraqi women and children who had been killed by US and UK soldiers.
"

— Hussain
Yasin[1] Hassan Omar, Osman Hussain[2], Muktar Said Ibrahim, and Ramzi Mohammed were four London men who perpetrated the July 21, 2005 bombings at three London Underground stations and a city bus.
Backgrounds
Yasin Hassan Omar
Very little is known of Omar's background, other than he was born in Somalia on New Year's Day of 1983. In 1992, when he was around nine years old, he arrived in the United Kingdom as a child dependent of asylum seekers. In 2000, at the age of seventeen, he was granted indefinite leave to remain in the country. In the infobox photo, Omar is the man at the upper left photo.
Osman Hussain
No sources have specified Hussain's background, other than he was born in Ethiopia (the only bomber to be from the country, as the rest were from Somalia), and he was motivated to participate in the attacks after watching videos of the Iraq War. Sometime prior to the bombings, he married Yeshshiemebet Girma, who had a brother who lived in Rome, Italy. In the infobox photo, Hussain is the man at the upper right photo.
Muktar Said Ibrahim
Like Omar, Ibrahim was born in Somalia and arrived in the United Kingdom as a child dependent of asylum seekers when he was twelve years old. He was granted residency two years later. In 1996, when he was eighteen, Ibrahim was convicted of robbery and sentenced to five years in prison for the crime, as well as carrying a knife. Allegedly, Ibrahim applied for naturalization as a British citizen in November 2003 and was issued with a British passport on September of the following year. Prior to the attacks, he lived in the London district of Stoke Newington. In the infobox photo, Ibrahim is the man at the lower right photo.
Ramzi Mohammed
No sources have specified Mohammed's background, other than he was a Somali national who, at some point prior to the bombings, attempted to have the local imam at the Muslim Cultural Heritage Centre in North Kensington removed due to religious disagreements. He had at least one younger brother named Whabi. In the infobox photo, Mohammed is the man at the lower left photo.
The Bombings, Manhunts, and Incidents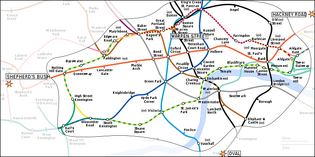 On July 21, exactly two weeks after the deadly July 7 bombings (see
below
), three bombs exploded on London Underground passenger trains. Unlike the London Underground bombings on July 7, the July 21 bombs were detonated within minutes, not seconds, of each other, and that only the detonator caps fired, with the whole bomb not exploding altogether, most likely due to the small size of the bombs and the low-quality organic peroxide used to fuel the explosions. On 12:26 p.m., an explosion occurred on a train at the Hammersmith and City Line tube station at Shepherd's Bush. Four minutes later, a second explosion occurred on a train at the Northern Line tube station in Oval. Fifteen minutes after that, a third explosion occurred on a train at the Victoria Line tube station at Warren Street. Though no one was injured in either of the three explosions, a person suffered an indirect asthma attack. In response to the bombings, the targeted stations, along with several others, were all evacuated, and many London Underground lines were temporarily suspended. Some eyewitness accounts stated that there was a "strange smell" at the scene of some of the bombings (the earliest accounts of which suggested that it preceded the bombings by several minutes), and that a white powder was spotted near the rucksacks containing the bombs. Many have assumed that the smell resulted from the burning or smoldering of the fuels for the bombs, or were the fuels' natural smell.
[3]
On 1:30 p.m., almost an hour after the Warren Street train bombing, an explosion occurred aboard a double-decker bus in Shoreditch. In the immediate aftermath of the bombings, University College Hospital was placed under lock-down, reportedly when armed police were pursuing a suspected bomber. The police would go on to state that the lock-down was unrelated to the blasts. At around 3:30 p.m., a man was arrested in Whitehall after being searched for explosives.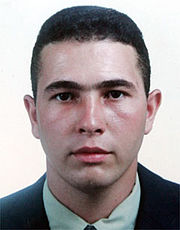 On July 22, a 27-year-old man from Brazil named Jean Charles de Menezes was shot dead by London Metropolitan Police after an on-duty officer known only as "Frank" misidentified him as being of Somalian, Eritrean, or Ethiopian descent (civilians were urged to be on the lookout for suspicious-looking people of those descents at the time). Officers had followed Menezes through the Stockwell Tube station, and upon confronting him, they pinned him and pushed him back into his seat, upon which two officers fired a total of eleven shots at him; Menezes was hit seven times in the head and once in the shoulder, all at close range, and died at the scene. It had been revealed that, following the July 21 bombings, police policy toward suspected suicide bombers had been revised, and that officers were ordered to fire directly toward suspects' heads, apparently since shooting at the chest would potentially detonate a concealed bomb. The officers involved in the shooting were debriefed, with drug and alcohol tests being taken as a standard procedure. They were then taken off-duty pending an investigation into the shooting of Menezes. The day after Menezes's death, police confirmed that he had not been carrying explosives, as it was previously reported, and that he was also not connected in any way to the bombings, having been shot and killed by mistake. Menezes's family condemned the shooting and rejected the apology, with one family member citing that his death was the result of "police incompetence" and also regarding details given by reports of the incident as conflicting. The family was reportedly offered almost £585,000 compensation in the wake of Menezes's shooting. Public reaction at Menezes's home country of Brazil was overwhelmingly negative, with protests and demonstrations being held, and some commentators noting the fact that incidents such as Menezes's killing were more expected to occur a developing country such as Brazil rather than a developed nation like the U.K. A large amount of criticism was directed towards the police procedure.
On the same day as Menezes's shooting, a number of people were arrested in connection with the bombings. On July 23, a suspicious package was found in bushes in Little Wormwood Scrubs. The package was subjected to a controlled explosion, which confirmed that it apparently was a bomb constructed in the same design as the others used on July 21, leading to speculation that a fifth bomber was at large. Scotland Yard made a statement that they were looking for more than just four men that were caught on surveillance cameras. Like the other improvised explosive devices that were used on July 21, the device was packed into a six-and-a-quarter-liter clear plastic food container with a white lid. On July 25, police released a statement, saying that they suspected Omar and Ibrahim of attempting to detonate the Warren Street tube station and the double-decker bus bombs, respectively. Two days afterward, police arrested Omar, along with three others, in Birmingham, discovering a suspicious package in the process; reportedly, they committed the raid after the caretaker of the area Omar was at found around ten large bottles of hair-dye and became suspicious. On July 28, Mohammed's younger brother Whabi was arrested in connection to the bombings. On the following day, many major police raids occurred, which eventually succeeded with the arrests of Ibrahim and Mohammed. Later that day, Hussain, who had fled to Rome, Italy, sometime after the bombings, was arrested at his brother-in-law's apartment after mobile phone calls alerted police to his presence there; he was eventually extradited to the U.K. under a European Arrest Warrant. On August 7, 2005, Omar, Ibrahim, and Mohammed were charged with attempted murder and possession of an explosive substance. Along with a fourth man, Manfo Kwaku Asiedu, the three were also charged with conspiring to murder. On December 8, Hussain was similarly charged.
On January 15, 2007, Omar, Hussain, Ibrahim, and Mohammed, as well as Asiedu and a second accomplice named Adel Yahya, all appeared in Woolwich Crown Court. The trial was presided by Sir Adrian Fulford. Sir Nigel Sweeney, the barrister for the prosecution, stated that the six men were part of an extremist Muslim plot to commit sequential terrorist attacks similar to the July 7 bombings. It was also alleged that they made at least some of the explosive devices at Omar's home. Omar, Hussain, Ibrahim, and Mohammed were all accused of attempting suicide bombings, with Sweeney claiming on the second day of the trial that Asiedu "lost his nerve at the last moment", implying that he was indeed the fifth bomber who abandoned his own bomb. Hussain claimed that the device he detonated was meant to be a mere hoax that wouldn't injure passengers, and that he was motivated by a protest against the war in Iraq. This claim was also made by Omar towards the end of the trial. However, the prosecution pointed to the apparent lack of planning for the aftermath of the explosions, since they did not contact media organizations and dispersed by various routes that implied no prior planning. Yahya later claimed that the reason he and the others had purchased large quantities of hydrogen peroxide, which had been used to construct the July 21 bombs, was to bleach wood. Evidence for the court included a suicide note written by Ibrahim; surveillance photographs of five of the men on a camping trip in the lake district, with allegations being said that the men were running up and down the hill in an "organized way"; about 200 hydrogen peroxide bottles that were found in bins at the block of flats where the suspects are accused of making the devices, with fingerprints belonging to defendants being found on the bottles; and two videos that were allegedly found in homes of the defendants (one of an alleged "jihad rap video" and the beheading of an unidentified victim, the other of apparent instructions on how to make a suicide bomb vest). An expert from the Forensic Explosives Laboratory told the court that particles of an explosive substance were found at Mohammed's home, then explaining that the explosive could easily be constructed at home with the right knowledge. On July 9, 2007, the jury found Omar, Hussain, Ibrahim, and Mohammed guilty of conspiracy to murder, and they were each sentenced to life imprisonment with a recommendation that they should serve a minimum of 40 years. The jury failed to agree verdicts on Yahya and Asiedu, and a retrial started on November 12, 2007, in which Asiedu was sentenced to 33 years in prison for his assistance in the plot.
The July 7 Bombings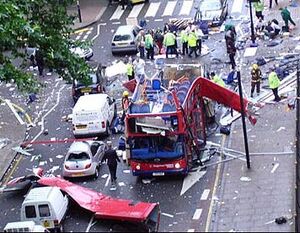 "Your democratically elected governments continuously perpetuate atrocities against my people all over the world. And your support of them makes you directly responsible, just as I am directly responsible for protecting and avenging my Muslim brothers and sisters. Until we feel security, you will be our targets. And until you stop the bombing, gassing, imprisonment and torture of my people we will not stop this fight. We are at war and I am a soldier. Now you too will taste the reality of this situation."
-Mohammed Sidique Khan in his homemade video
On July 7, 2005, at 8:50 a.m., three bombs exploded on London Underground passenger trains, all timed to detonate within fifty seconds of each other. First, a bomb exploded on a six-car London Underground C69 and C77 Circle line sub-surface train, number 204, traveling from Liverpool Street to Aldgate, killing eight people and damaging a parallel track. Then, a second bomb exploded on another London Underground C69 and C77 Circle line sub-surface train, number 216, traveling from Edgware Road to Paddington, killing seven people and damaging a nearby train (it was unoccupied) and a wall (it later collapsed). Finally, the third bomb exploded on a six-car London Underground 1973 Stock Piccadilly line deep-level train, number 311, traveling from King's Cross-St. Pancras to Russell Square, killing 27 people and damaging the surrounding tunnel. Initial reports of the train bombings were extremely confusing. First of all, they indicated that there were six explosions, not three, likely because the blasts occurred on trains located between tube stations, leading to assumptions that explosions had occurred at both stations on all three counts. Secondly, they also indicated that they occurred under a half-hour-long period due to confusions at London Underground, and that the explosions were caused power surges. It should be noted that there were more fatalities on the Russell Square train due to the fact that the Piccadilly line is a deep-level tunnel, allowing its confined space to concentrate the effect of the bombing and therefore inflict more casualties. At 9:47 a.m., a fourth explosion occurred at Tavistock Square, aboard a number 30 double-decker bus that had been picking up evacuees from another London Underground tube station; fourteen people were killed, mostly at the rear of upper and lower decks, where the explosion's effect was mostly concentrated at. A couple of hours after the bombings, it was confirmed by Metropolitan Police Commissioner Sir Ian Blair on 11:10 a.m. that the incidents were all coordinated suicide terrorist attacks. In addition to the 52 people killed, there were around 700 others injured, 21 of them seriously.
The Bombers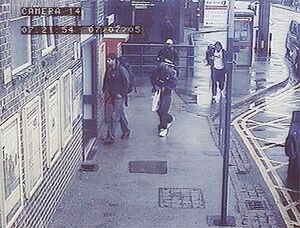 On July 12, at 6:30 a.m., three of the suicide bombers were identified through security camera footage, a missing person's report, and documents found at the bombing sites. As a result, five raids were conducted, three of them in the Beeston and Holbeck areas of Leeds, the other two at the nearby town of Dewsbury in West Yorkshire. At 11:30 a.m., a sixth raid was conducted in the Burley area of Leeds, and up to 600 residents were evacuated from the area when explosive devices were discovered, preventing residents from returning to their homes for two days. The next day, the fourth and final suicide bomber was identified. All four attackers were described by then-
Home Secretary
Charles Clarke
as being "
cleanskins
", or being previously unknown to local authorities until after the bombings. The four suicide bombers were officially identified as:
Mohammad Sidique Khan (b. October 20, 1974):

Responsible for the Edgware Road train bombing
Born at Leeds, West Yorskhire, England, U.K.
Parents were Tika Khan, a foundry worker, and Mamida Begum
Grew up in Beeston and moved to Lewsbury in early 2005
Attended South Leeds High School, where Hasib Hussain was also a student
Became influenced by radical Muslim cleric Abdullah el-Faisal
Worked at Hillside Primary School as a "learning mentor" to children of immigrant families recently entering Britain
Described as being quiet and never forthcoming about his religious and political views
Also involved in the Hamara Youth Access Point, a teen drop-in center located in Beeston, which was also frequented by Hasib Hussain and Shehzad Tanweer
Married Hasina Patel, whom he had a child with
Alleged to have also been directly involved with the 2002 Bali bombings
Allegedly tried to get into the U.S., but was put on a no-fly list by officials due to suspicions
Knew Mohammed Junaid Babar, who later testified against the July 21 bombers
Police found a videotape made by him, which was shown on September 1, 2005

Shehzad Tanweer (b. December 15, 1982):

Responsible for the Aldgate train bombing
Born at Bradford, West Yorkshire, England, U.K.
Parents were Mohammed Mumtaz Tanweer, a local businessman, and Parveen Akhtar
Moved to Beeston in 1984 and attended Wortley High School
Left for Pakistan in 2004 to attend an Islamic study course
Believed to work occasionally at his father's fish-and-chip shop at the time of his death
Went to several mosques and also the Hamara Youth Access Point, which were also frequented by Khan and Hussain
Traveled to Pakistan to attend a course in Islamic studies
Believed to have met Osama Nazir, who had since been arrested for his role in a grenade attack on a church in Islamabad that killed five people, in Faisalabad
Also believed to have met Zeeshan Siddiqui, who is associated with several militant groups and was arrested in Pakistan two months prior to the July 7 bombings

Germaine Lindsay (b. September 23, 1985):

Responsible for the Russell Square train bombing
Born in Jamaica, but moved to Dalton, West Yorkshire at the age of five
Attended Rawthorpe Junior School and Rawthorpe High School
Worked as a carpet fitter in Aylesbury
Was married with Aoife Nadiyah Molloy for eight days before divorcing her
Married Sherafiyah Lewthwaite (born Samantha Lewthwaite), who converted to Islam at fifteen years old, after divorcing Molloy
Convinced his mother, Evangelical Christian Mary McLeod, to convert to Islam
Had two children with Lewthwaite
Reportedly close with Abdullah el-Faisal, who influenced Khan
Home was the subject of an unrelated attempted arson attack on July 22, 2005, for which two seventeen-year-olds were charged on December

Hasib Hussain (b. September 16, 1986):

Responsible for the double-decker bus bombing in Tavistock Square
Raised in Holbeck, West Yorkshire as the youngest of four children
Parents were Mahmood, a factory worker, and Maniza, an interpreter for South Asian families at Leeds General Infirmary
Attended Ingram Road Primary School and Matthew Murray High School (now South Leeds High School)
Earned an AVCE in Business at Thomas Danby College in Leeds
Was a member of the Holbeck Hornets football team and the local cricket team
Met Khan and Tanweer in late 2003
Was stated to have traveled to Pakistan in February 2004 by media reports, although they appear to be cases of mistaken identity
Believed to have tried to detonate his bomb aboard a train on the Northern Line, but the train was suspended and he resorted to the double-decker bus as a target
Aftermath
Within the first few minutes after the bombings, Cabinet Office Briefing Room A (COBRA) was activated and remained open for over a week. The London Underground was closed following the attacks, and services resumed the following day with a reduced service, although the Circle and Piccadilly lines between Hyde Park Corner and Holloway Road remained closed, several other lines remained disrupted in the areas affected by the explosions, and security alerts also caused disruption. All major Network Rail stations in London also closed on the morning of the bombings, reopening later in the afternoon; King's Cross remained closed until July 8, and most national rail services terminated outside London, with Great North Eastern Railway trains stopping at Peterborough and Virgin Trains stopping at Watford. The entire London Buses network was suspended on the day of the bombings, with all buses being sent back to depot for security checks. Eventually, services outside Zone 1 in central London resumed their services, and a reduced Zone 1 service resumed service in the evening hours; services then returned to normal on the following day except through the areas affected by the bus bombing. Due to security measures, the Metropolitan Police Service urged people to not enter London and to limit their usage of public transport; most schools in central London were closed the day following the bombings due to transport difficulties; and major buildings such as the Houses of Parliament, Buckingham Palace, and the United States Embassy were sealed off, as well as most landmarks such as the London Eye and Westminster Abbey. There was also an international response immediately after the bombings, with security being tightened at major transport networks in other European countries as well as Canada and Singapore; terror and security alert levels being raised in the U.S., France, Germany, and Spain. Media coverage over the attacks was heavily extensive, with it being the longest single broadcast in the history of the British news provider channel ITN. On the day following the attacks, the Union Flag was ordered to be flown at half-mast.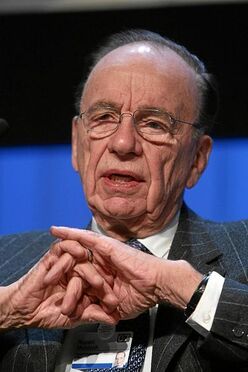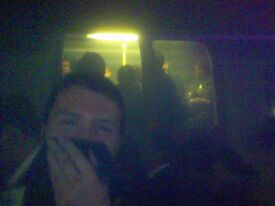 In the wake of the attacks, a survey of 500 British Muslims found that 24% believed that Khan, Tanweer, Lindsay, and Hussain weren't the bombers. In 2006, the government had refused to hold a public inquiry, stating that "it would be a ludicrous diversion", with Prime Minister Tony Blair stating that an independent inquiry would "undermine support" for MI5, while the leader of the opposition, David Cameron, added that only a full inquiry would "get to the truth". In reaction to revelations about the extent of security service investigations into the bombers prior to the attacks, then-Shadow Home Secretary David Davis said, "It is becoming more and more clear that the story presented to the public and Parliament is at odds with the facts." However, the decision against an independent public inquest was later reversed, and a full public inquest into the bombings began on October 2010. Coroner Lady Justice Hallett later stated that the inquest would examine how each victim was killed and whether MI5, if it had worked better, could have prevented the attacks from ever occurring.
An independent coroner's inquest was launced on October 2010, which determined that the 52 victims had been unlawfully killed, their deaths were unpreventable, and they would have presumably died "whatever time the emergency services reached and rescued them". Also, there have been various conspiracy theories proposed about the bombings, including the suggestion that the bombers were merely "patsies", based on claims concerning the timings of the trains and the train coming from Luton, alleged explosions that occurred underneath the carriages, and allegations of the faking of a time-stamped and dated photograph of the bombers standing at Luton station. Claims made in the Internet video 7/7 Ripple Effect were examined by the BBC documentary series The Conspiracy Files in an episode titled "7/7", which debunked many of the video's claims. On the day of the bombings, Peter Power of Visor Consultants gave interviews on BBC Radio 5 Live and ITV, in which he said that he was working on a crisis-management simulation drill in the City of London "based on simultaneous bombs going off precisely at the railway stations where it happened this morning" when he heard that an attack was actually occurring; he later described this as a coincidence.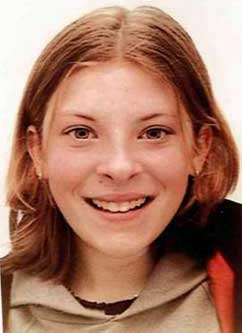 On 2005 to 2007, conducted investigations exposed a controversy involving the now-defunct News of the World and other British newspapers published by News International, a subsidiary of the then-News Corporation, in which employees of the newspaper were accused of engaging in phone-hacking, police bribery, and exercising improper influence in the pursuit of publishing stories. The investigations concluded that the paper's phone hacking activities were limited to celebrities, politicians, and members of the British Royal Family, but on July 2011, it was revealed that the phones of murdered schoolgirl Milly Dowler, relatives of deceased British soldiers, and victims of the July 7 bombings were also accessed, resulting in a public outcry against News Corporation and its owner Rupert Murdoch. Advertiser boycotts contributed to the closure of the News of the World on July 10, thus ending a total of 168 years of publication, and continuous pressure from the public later forced News Corporation to cancel its proposed takeover of the British telecommunications company BSkyB. The scandal has since been referred to as the News International phone-hacking scandal, sometimes dubbed "Hackgate", "Rupertgate", or "Murdochgate" (the latter two being references to the equally-controversial Watergate Scandal) by the press. A number of inquiries made during the investigation led to several high-profile resignations, including Dow Jones chief executive Les Hinton, News International legal manager Tom Crone, chief executive Rebekah Brooks, and the commissioner of London's Metropolitan Police Service Sir Paul Stephenson. There were also a number of arrests, which included those of former News of the World managing editor Andy Coulson, former executive editor Neil Wallis, and Rebekah Brooks. Murdoch and his son James were also summoned to present evidence before the Leveson Inquiry.
Victims
All of the following were killed during the July 7, 2005 bombings. 51 people died at the scene, while one person died at a hospital.
The London Underground bombings:

Seven killed at the Aldgate station:

Lee Baisden, 34
Benedetta Ciaccia, 30
Richard Ellery, 21
Richard Gray, 41
Anne Moffat, 48
Fiona Stevenson, 29
Carrie Taylor, 24

Six killed at the Edgware Road station:

Michael Brewster, 52
Johnathan Downey, 34
David Foulkes, 22
Colin Morley, 52
Jennifer Nicholson, 24
Laura Webb, 29

26 killed at the Russell Square station:

James Adams, 32
Samantha Badham, 35
Phillip Beer, 22
Anna Brandt, 41
Ciaran Cassidy, 22
Elizabeth Daplyn, 26
Arthur Frederick, 60
Karolina Gluck, 29
Gamze Gunoral, 24
Lee Harris, 30
Ojara Ikeagwu, 56
Emily Jenkins, 24
Adrian Johnson, 37
Helen Jones, 28
Susan Levy, 53
Shelley Mather, 25
Michael Matsushita, 37
James Mayes, 28
Behnaz Mozakka, 47
Mihaela Otto, 46
Atique Sharifi, 24
Ihab Slimane, 24
Christian Small, 28
Monika Suchocka, 23
Mala Trivedi, 51
Rachell Chung For Yuen, 27

Thirteen killed aboard the double-decker bus in Tavistock Square:

Anthony Fatayi-Williams, 26
Jamie Gordon, 30
Giles Hart, 55
Marie Hartley, 34
Miriam Hyman, 31
Shahara Islam, 20
Neetu Jain, 37
Sam Ly, 28
Shyanuja Parathasangary, 30
Anat Rosenberg, 39
Philip Russell, 28
William Wise, 54
Gladys Wundowa, 50
Known Accomplices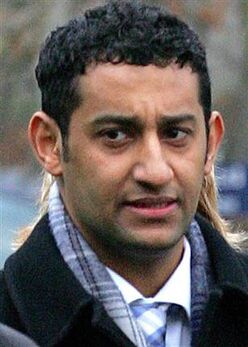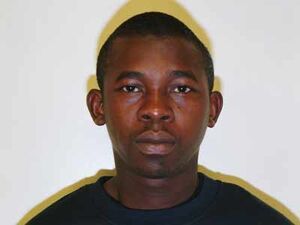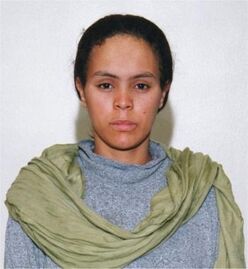 Adel Yahya:

Born in Ethiopia, but lived at Yemen as a child
Moved to the U.K. to complete his education
Began a computer networking degree at the London Metropolitan University
Became attracted to Islamist extremism alongside Omar around 2000 or 2001
Joined a "mysterious training camp" alongside the bombers and more than 20 others in May 2004
Left Britain a month before the July 7 and July 21, 2005 bombings
Tracked down in Addis Ababa, Ethiopia in November 2005 and extradited in December
Police seized a CD including 97 chapters concerning Islamist extremism and bomb-making
Tasked with identifying efficient ingredients for organic peroxide
Accused of assisting in the planning of the July 21 bombings
Plead guilty to collecting information useful to a person committing or preparing an act of terrorism
Found guilty and jailed for six years and nine months

Manfo Kwaku Asiedu:

A drifter
Real name suggested to be George Nanak Marquaye or Sumaila Abubakari
Raised in Ghana and immigrated to Britain in late 2003
Turned himself in to police after the fifth bomb was discovered
Charged on August 7, 2005 with conspiracy to murder and conspiring to cause an explosion
Testified against Omar, Hussain, Ibrahim, Mohammed, and Yahya
Plead guilty to conspiring to cause an explosion
Found guilty on November 20, 2007 and jailed for 33 years
Judge recommended that he be deported back to Ghana upon release

Yeshshiemebet Girma (b. c. 1977)

The second person and first woman to be charged under the Terrorism Act
Married to Hussain
Had three children with him
Had at least one brother who lived in Rome, Italy
Had failed to disclose information that could have helped apprehend one of the bombing suspects
Alleged to have aided in her husband's brief escape from police by driving him to Brighton
Sentenced to fifteen years in prison on June 12, 2008

Muluemebet Girma (b. c. 1984)

The third person and second woman to be charged under the Terrorism Act
Sister of Yeshshiemebet Girma and sister-in-law to Hussain
Worked as a model
Lived in Brighton and had a degree in Pharmaceutical Science
Had failed to disclose information that could have helped apprehend one of the bombing suspects
Found guilty of assisting an offender and failing to give information on June 2008
Sentenced to ten years in prison
Other
The following were charged with failing to disclose information that may help police investigating an act of terrorism:

Siraj Yassin Abdullah Ali
Shadi Sami Abdel Gadir
Omar Nagmeloin Almagboul
Mohamed Kabashi

The following were charged with failing to disclose information about Hussain:
The following were charged with assisting a person or persons in evading arrest:

Asias Girma
Whabi Mohammed

Younger brother of Ramzi Mohammed

The following were held by police in relation to the July 7 or July 21 bombings as of August 8:

A man arrested in an August 1 raid on addresses in Clapham and Stockwell
A woman arrested on August 3 in Stockwell

The following individuals were released from custody after being held by police in relation to the July 7 or July 21 bombings as of August 8:

Two men arrested on July 22 in Stockwell
A man arrested on July 23 in Tulse Hill
A man arrested on July 24 in New Southgate, and again on August 6, only to be bailed on September
A man arrested on July 25 near Curtis House
Three men arrested on July 27 in Washwood Heath
A woman arrested on July 27 in Stockwell, but was bailed on September
A total of nine people arrested on July 28 in Tooting
Three people arrested on July 29 in Notting Hill and North Kensington
Two women arrested on July 29 in the Liverpool Street station of the London Underground
Three men and a woman arrested on July 31 in Brighton
A man arrested on August 2 in Finchley
Modus Operandi
Omar, Hussain, Ibrahim, and Mohammed used improvised explosive devices fueled by concentrated organic peroxide, which were based on the bombs constructed by Khan, Tanweer, Lindsay, and Hussain. Three of the bombs were placed in rucksacks, while the fourth, which was smaller than the others, was housed in a plastic box. Allegedly, one of the bombers had to shoot a handgun in order to activate at least one of the explosives.
Known Victims
2005:

July 21:

The London Underground bombings:

A victimless bombing on the Shepherd's Bush train
A victimless bombing on the Oval train
A victimless bombing on the Warren Street train

A victimless bombing on a double-decker bus in Shoreditch

July 23, Little Wormwood Scrubs: No victims, the bomb was found and underwent a controlled explosion

Note: Although there were no casualties in the four bombings, one person suffered an indirect asthma attack during one of the London Underground bombings (it is unknown which bombing).
On Criminal Minds
Omar, Hussain, Ibrahim, and Mohammed were mentioned in the Season Four episode Mayhem (though not by name) as examples of terrorists who managed to stay off the radars of police before executing an attack.
Sources
References
↑

Sometimes misspelled "Yassin"

↑

Also referred to as Hussain Osman or Hamdi Isaac

↑ TATP, which was used for the July 7 bombs, is notorious for its smell as it sublimates. It should be noted that Lindsay had bought £900 worth of perfumes prior to the bombings, likely to disguise the smell of the TATP.