Season Two
Talk

0
961pages on
this wiki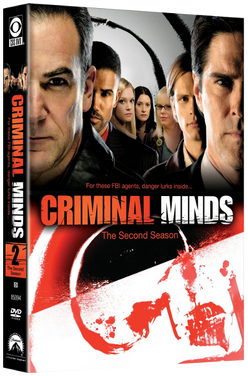 Season Two
was released on October 2, 2007. The DVD features 23 episodes on 6 discs with Special Features.
Season Two averaged 14.05 million viewers and 5.0 ratings points in the A18-49 demo on CBS.
Episodes
Edit
Image
Title
Airdate
Writer
Director
Season Episode
Series Episode
"The Fisher King: Part 2"
September 20, 2006
Edward Allen Bernero
Gloria Muzio
1
23
The team continues to decipher the clues given to each of them by a psychopath in order to save his most recent victim. Gideon decides not to focus on the personal aspects of the case. Rather, he tells the team to profile the killer as they would in any other BAU investigation. Reid stays behind to work on a personal connection that could solve the case as one member of the team fights for life.
"P911"
September 27, 2006
Simon Mirren
Adam Davidson
2
24
A young boy who had disappeared a year ago turns up for sale by a child pornographer on an online auction. A former profiler who now heads the FBI's Innocent Images Unit asks Gideon and the BAU to help her save the boy's life.
"The Perfect Storm"
October 4, 2006
Debra J. Fisher and Erica Messer
Felix Enriquez Alcalá
3
25
The BAU has reason to believe a series of murders might have been committed by two people working as a team after the victims' families receive DVDs after each crime that includes psychological attacks.
"Psychodrama"
October 11, 2006
Aaron Zelman
Guy Norman Bee
4
26
The BAU is called to investigate a series of bank robberies after it becomes evident the crimes are not based on money because the robber abuses his victims by forcing them to undress before he leaves the crime scene.
"Aftermath"
October 18, 2006
Chris Mundy
Tim Matheson
5
27
The BAU investigates a serial rapist who had been attacking young women at religious schools and stopped for six weeks. He has resumed his attacks, but is now targeting a different demographic of women. Elle makes a decision that could end her career with the BAU.
"The Boogeyman"
November 25, 2006
Andi Bushell
Steve Boyum
6
28
The BAU travels to Ozona, a small Texas community, to investigate the murders of children. Meanwhile, Elle is having readjustment issues after being shot, and Hotchner becomes worried about her when she misses a mandatory psych evaluation and isn't answering her cell phone.
"North Mammon"
November 1, 2006
Andrew Wilder
Matt Earl Beesley
7
29
After a man kidnaps three teenaged girls and locks them in a cellar, he tells them only two of them will live and they must choose which one will die. The BAU takes the case when the mother of one of the girls travels to Quantico to ask JJ to intercede with the FBI on the girls' behalf.
"Empty Planet"
November 8, 2006
Ed Napier
Elodie Keene
8
30
The BAU travels to Seattle to identify and catch a serial bomber who has been terrorizing the city and targeting centers of automated techology. Working with the author of a science fiction novel that has become a guide for the bomber, the team attempts to determine why certain sites have been chosen as targets.
"The Last Word"
November 15, 2006
Debra J. Fisher and Erica Messer
Gloria Muzio
9
31
The daughter of high-powered diplomats, Special Agent Emily Prentiss joins the team, and she must convince Gideon and Hotchner she deserves the job based on merit and not on her family connections. The BAU is then called to St. Louis to investigate two serial killers who appear to be competing with each other. By setting a trap based on one killer's profile, the team creates a media event by which to capture the second killer.
"Lessons Learned"
November 22, 2006
Jim Clemente
Guy Norman Bee
10
32
Gideon, Reid and Prentiss travel to Guantanamo Bay to interrogate the leader of a terror sleeper cell being detained there after a chemical weapons dispersal device is discovered during a raid at a suspicious house. Working with Reid, Emily's fluency in Arabic proves to be useful as they scrutinize the suspect.
"Sex, Birth, Death"
November 29, 2006
Chris Mundy
Gwyneth Horder-Payton
11
33
The BAU is called to investigate a series of murders of prostitutes in the nation's capital and suspects a teenager is guilty of the crimes. The case becomes complicated when a congresswoman, who about to make a speech to praise the city's lower crime rate, threatens to take away the case if SSA Hotchner calls a press conference to discuss it.
"Profiler, Profiled"
December 13, 2006
Edward Allen Bernero
Glenn Kershaw
12
34
Morgan is arrested as a serial killer after he goes home to Chicago to visit his family. Because the detective making the arrest had used a profile provided by Gideon, the team travels to Chicago to help the local authorities find the real killer and exonerate Morgan.
"No Way Out"
January 17, 2007
Simon Mirren
John Gallagher
13
35
Gideon is pitted against the scariest and most evil murderer in his entire career. When the BAU confronts the sadistic killer in a remote diner in the Nevada desert, the local authorities want to move quickly and make an arrest. But Gideon bides his time as he attempts to persuade the man, who has sworn not be captured, to reveal the whereabouts of a woman he is holding hostage.
"The Big Game"
February 4, 2007
Edward Allen Bernero
Gloria Muzio
14
36
In this special two-part episode, the BAU is called to investigate after a wealthy couple is murdered in their home following a Super Bowl party. The team pursues what they believe might be multiple killers who use webcams to record murders and upload the tapes on the internet. Hotchner, Morgan and Prentiss soon discover the unsub is actually one man with multiple personalities. As they close in on the killer, Reid faces a life-threatening situation.
"Revelations"
February 7, 2007
Chris Mundy
Guy Norman Bee
15
37
In this conclusion of a special two-part episode, finding the serial killer becomes critical to the BAU when the team realizes Reid is being held captive and a live feed of him being tortured is shown on the internet. Meanwhile, Reid's troubled childhood is revealed in flashback sequences as he drifts in and out of consciousness.
"Fear and Loathing"
February 14, 2007
Aaron Zelman
Rob Spera
16
38
The BAU becomes involved to prevent a possible race riot when the murder of four young black women in a mostly white New York suburb appear to be hate crimes.
"Distress"
February 21, 2007
Oanh Ly
John Showalter
17
39
The BAU travels to Houston to investigate a series of murders that have occurred near construction sites and abandoned buildings. Because the murders appear to be random, the team believes the killer could be a homeless person. Meanwhile, everyone is noticing an apparent change in Reid's behavior.
"Jones"
February 28, 2007
Andi Bushell
Steve Shill
18
40
A case involving a serial killer believed to be copying Jack the Ripper takes Gideon to New Orleans after three victims are found with their throats cut. Once thought to have been killed in Hurricane Katrina, the discovery of a fourth victim in the French Quarter confirms the murderer is still alive. All the evidence and files had been lost in the flood, so the only clue the team has is the word "Jones" that the lead detective wrote on the wall just before he drowned. Meanwhile, Reid meets up with an old rival as he continues to struggle with the aftermath of being held hostage.
"Ashes and Dust"
March 21, 2007
Andrew Wilder
John E. Gallagher
19
41
A serial arsonist who targets the homes of upper-middle-class families as they sleep is investigated. The BAU determines the arson victims are linked together through corporate development companies that have been accused of building on contaminated land.
"Honor Among Thieves"
April 4, 2007
Aaron Zelman
Jesus Salvadore Trevino
20
42
Elizabeth Prentiss, a foreign ambassador and SSA Emily Prentiss' mother, seeks the aid of the BAU when a Russian immigrant is kidnapped and held for ransom.
"Open Season"
May 2, 2007
Debra J. Fisher and Erica Messer
Felix Enriquez Alcalá
21
43
The BAU is called to investigate after the bodies of missing people are discovered in a remote region of the Idaho wilderness. The gruesome find also leads the team to determine the unsubs have been hunting humans for sport.
"Legacy"
May 9, 2007
Edward Allen Bernero
Glenn Kershaw
22
44
When homeless persons begin going missing mysteriously from the streets in Kansas City, a local detective calls the BAU to investigate the disappearances.
"No Way Out II: The Evilution of Frank"
May 16, 2007
Simon Mirren
Edward Allen Bernero
23
45
When the prolific serial killer Frank returns and murders Gideon's girlfriend in his own apartment, he starts his own investigation. The BAU is forced to circumvent the local authorities to help Gideon find Frank.
Highlights
Edit
Season Two of Criminal Minds begins where Season One leaves off with the conclusion of "The Fisher King". A prolific serial killer matches wits with Gideon. Elle Greenaway shoots a serial rapist and resigns from the BAU. Reid relives his painful childhood after a religious serial killer, who has three personalities, abducts, tortures, and drugs him for the course of two days. Secrets about Morgan are revealed after he is arrested during a visit home on suspicion of being a serial killer. New to the team this season is Emily Prentiss, an ambassador's daughter.
DVD Special Features
Edit
Profilers, Profiled
The Physical Evidence: The Making of Criminal Minds Season Two
The "P" Word
Scenes of the Crime
Dad's Garage
You Can't Traffic in Human Bones
Group-Cause Bombers
Profiling in a Vacuum
House of Horrors
The Behavioral Science of Criminal Minds
Magic
Criminal Accuracy
Sexual Sadism: "Sex, Birth, Death"
Killing Teams: "The Perfect Storm"
Women Who Kill: "Jones"
Parent Emergency: "P911"
"Lessons Learned"
Meet Kirsten Vangness
Kirsten Vangness... Tech Kitten
Kirsten Vangness... Domestic Goddess
Kirsten Vangness... Diva
Gag Reel
Deleted Scenes
JJ with Polly's Mother
Prentiss, Morgan & Reid on BAU W/Intro by Gigi Coelle-Bannon
Commentaries For:
"The Fisher King: Part 2"
"The Perfect Storm"
"Profiler, Profiled"
"Revelations"