Season Three
Talk

0
1,105pages on
this wiki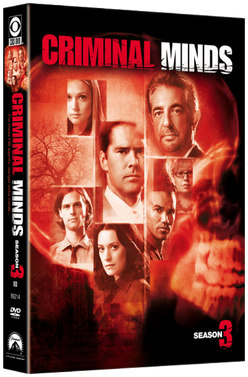 Season Three
was released on September 16, 2008. The DVD features 20 episodes on 6 discs, with special features.
Season Three averaged 12.78 million viewers and 4.5 ratings points in the A18-49 demo on CBS.
Image
Title
Airdate
Writer
Director
Season Episode
Series Episode
"Doubt"
September 26, 2007
Chris Mundy
Gloria Muzio
1
46
The team investigates a spree killer who is targeting women at a small college in Flagstaff, Arizona. The BAU shuts down the campus, creates a detailed profile of the unsub, and arrests a suspect. However, the team members begin to have doubts about themselves when another woman is killed while the suspect is in custody.
"In Name and Blood"
October 3, 2007
Chris Mundy
Edward Allen Bernero
2
47
With Gideon missing, and Hotch and Prentiss off the team, the remaining members of the BAU investigate one of its most difficult cases yet as the remaining agents track a serial killer in Milwaukee who abducts women in public places by using his son as bait.
"Scared to Death"
October 10, 2007
Debra J. Fisher and Erica Messer
Felix Enriquez Alcalá
3
48
The BAU travels to Portland to assist local authorities in investigating the disappearances of people who are new to the city and have no strong social ties. All the clues lead to a psychiatrist who may be using his patients' worst fears to murder them.
"Children of the Dark"
October 17, 2007
Jay Beattie and Dan Dworkin
Guy Norman Bee
4
49
When a series of home invasions involve the murders of families, the BAU is called to Denver to identify the killers and presume that they have been abused while in foster care.
"Seven Seconds"
October 24, 2007
Andi Bushell
John E. Gallagher
5
50
The investigation turns to the family as the BAU and local authorities race against time to locate a young girl who has disappeared from a shopping mall in Potomac Mills, Virginia.
"About Face"
October 31, 2007
Charles Murray
Skipp Sudduth
6
51
The BAU travels to Dallas to assist in the search for a murderer who scares his victims with "missing" flyers that display the soon-to-be victims' photos. Also, SSA David Rossi returns to the BAU from retirement.
"Identity"
November 7, 2007
Oanh Ly
Gwyneth Horder-Payton
7
52
The BAU is called to Montana to investigate the case of three abducted and murdered women. When another woman disappears, the search leads to a man who has apparently assumed the identity of his partner who committed suicide.
"Lucky"
November 14, 2007
Andrew Wilder
Steve Boyum
8
53
The BAU pursues a cannibalistic, Satanist serial killer in Bridgewater, Florida, that leads Morgan to a crisis in his faith. Meanwhile, Garcia believes she has met her dream man, but her first date with him doesn't go exactly as she had expected.
"Penelope"
November 21, 2007
Chris Mundy
Felix Enriquez Alcalá
9
54
As Garcia fights for her life, the BAU's search for her attacker leads the unit to believe the assailant could be someone close to the investigation.
"True Night"
November 28, 2007
Edward Allen Bernero
Edward Allen Bernero
10
55
The BAU is called in to Los Angeles to help local authorities investigate gang-related killings that might involve a famous comic book artist.
"Birthright"
December 12, 2007
Debra J. Fisher and Erica Messer
John E. Gallagher
11
56
The new sheriff in Fredericksburg, Virginia, requests the BAU's assistance in the investigation of a series of mutilation murders that appear to mimic similar crimes that had occurred over two decades earlier.
"3rd Life"
January 9, 2008
Simon Mirren
Anthony Hemingway
12
57
When two teenage girls are abducted in Chula Vista, California, and one of them is murdered, the BAU must profile the killer and find him before he kills the other teen. Meanwhile, the second girl's enigmatic father assists in the search.
"Limelight"
January 23, 2008
Jay Beattie and Dan Dworkin
Glenn Kershaw
13
58
After the contents of a self-storage unit purchased at an auction take the BAU to Philadelphia to investigate a series of murders, the local agent becomes the center of the case. To catch the killer, the team must profile the items inside the unit.
"Damaged"
April 4, 2008
Edward Allen Bernero
Edward Allen Bernero
14
59
Rossi goes to Indianapolis to continue his investigation into the two unsolved murders that have plagued him for twenty years, and he is joined by Prentiss, JJ, and Morgan when they learn about the case. Meanwhile, Hotch and Reid interview a death-row inmate in a Connecticut prison.
"A Higher Power"
April 9, 2008
Michael Udesky
Felix Enriquez Alcalá
15
60
The BAU is called to Pittsburgh after an unusually high suicide rate with a suspicious two-week-long time break appears to be the work of an Angel of Death.
"Elephant's Memory"
April 16, 2008
Andrew Wilder
Bobby Roth
16
61
The BAU is called to West Bune, a small town in Texas, to investigate what appears to be spree killings that involve a teenaged boy.
"In Heat"
April 30, 2008
Andi Bushell
John E. Gallagher
17
62
The BAU is called to Miami to investigate a serial killer who appears to have a conflicted sexual identity. Meanwhile, JJ's secret is revealed.
"The Crossing"
May 7, 2008
Debra J. Fisher and Erica Messer
Guy Norman Bee
18
63
The team members try to identify a stalker before he can attack a woman in Silver Spring, Maryland. Meanwhile, Hotch and Rossi are called as consultants on a possible murder case involving battered woman syndrome in Boston.
"Tabula Rasa"
May 14, 2008
Jay Beattie and Dan Dworkin
Steve Boyum
19
64
After a suspected serial killer wakes up from a coma, the BAU reopens the case and uses brain fingerprinting to determine if he really doesn't remember the crimes that had been committed four years earlier in Roanoke, Virginia.
"Lo-Fi"
May 21, 2008
Chris Mundy
Glenn Kershaw
20
65
The BAU faces one of its toughest cases when the team is called to New York City to determine if a series of random shootings is the work of one serial killer or a team of killers working together.
Highlights
Edit
During Season Three, Gideon begins to doubt his abilities, sanity and ultimately leaves the BAU. David Rossi returns after 10 years of retirement to fill in Gideon's vacant spot and gets extremely involved in a cold case that continues to haunt him. This season, the team is confronted with cases involving all manner of killers, including a cannibal. In a two-part episode, Garcia is shot by a serial killer. Hotch struggles to maintain his relationship with his family but ends up being divorced from Haley.
DVD Special Features
Edit
Deleted Scenes
"In Name and Blood"
"Scared to Death"
"Birthright"
"Damaged"
"A Higher Power"
Profile: David Rossi/Joe Mantegna
Shemar Moore: Criminal Minds Wild Ride
Gag Reel
From Script to Screen: "True Night"
True Vision
True Hero
True Look
True Skill
True Speed
True Emotion
Killer Roles
The Good, The Bad, and The Unsub
The Apple and The Tree
The Wolf in Sheep's Clothing
The Love Triangle
The Naked Chef
The Criminal Element: The Making of Criminal Minds Season Three
Our Knights Prevail
There's No "I" In BAU
The Daily Grind
Better Lairs & Dungeons
Suicide Blonde
Shoot for the Moon... Then Blow It Up
Shooting Penelope
Pains, Trains, & Automobiles
External Links
Edit