Season Seven
Talk

0
1,104pages on
this wiki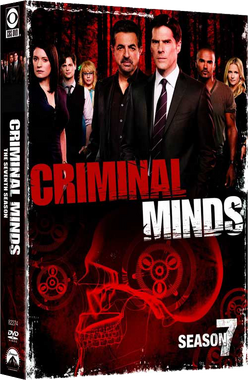 Season Seven
ran for twenty-four episodes, and was released on DVD on September 4th, 2012.
Season Seven averaged 13.395 million viewers and 3.73 ratings points in the A18-49 demo on CBS.
Image
Title
Airdate
Writer
Director
Season Episode
Series Episode
"It Takes a Village"
September 21, 2011
Erica Messer
Glenn Kershaw
1
139
The members of the BAU are questioned by a Senate Committee for their retaliatory actions after the assumed death and disappearance of Emily Prentiss.
"Proof"
September 28, 2011
Janine Sherman Barrois
Karen Gaviola
2
140
The BAU is called to rural Oklahoma when women are being murdered after being tortured with sulfuric acid. Meanwhile, Reid treats JJ and Prentiss with deliberate disregard as he tries to deal with their deception regarding Prentiss' fake death.
"Dorado Falls"
October 5, 2011
Sharon Lee Watson
Felix Enriquez Alcalá
3
141
Investigation into a mass murder at an internet security company in Charlottesville, Virginia, reveals the butchery is not the work of a typical serial killer. Meanwhile, Morgan oversees Prentiss's requisite recertification training.
"Painless"
October 12, 2011
Breen Frazier
Larry Teng
4
142
Survivors of a Boise high school massacre return to remember the event ten years later, but the BAU team is called in when a serial killer with a similar style targets the survivors. Also, Hotch is worried that his son, Jack, may be a victim of school bullying, while Morgan and Reid engage in a prank war.
"From Childhood's Hour"
October 19, 2011
Bruce Zimmerman
Anna Foerster
5
143
The BAU travels to St. Louis to investigate the disappearances of young children who have troubled mothers as Rossi reconnects with his first wife, Carolyn Rossi, who brings him disturbing news.
"Epilogue"
November 2, 2011
Rick Dunkle
Guy Ferland
6
144
The BAU search California's Angeles National Forest after a number of bodies mysteriously turn up in the mountain lakes there. Also, Rossi struggles with an agonizing decision regarding his ex-wife.
"There's No Place Like Home"
November 9, 2011
Virgil Williams
Rob Spera
7
145
When a series of tornadoes plague Kansas, the BAU is called in to investigate bodies of teenage boys that turn up in Wichita in the aftermath of the storms. Also, work pressures cause tension on JJ's home front.
"Hope"
November 16, 2011
Kim Harrison
Michael Watkins
8
146
It's personal for Garcia when a member of her support group goes missing on the seventh anniversary of her daughter's abduction, and she asks the rest of the BAU for help in finding her.
"Self-Fulfilling Prophecy"
December 7, 2011
Erica Messer
Charlie Haid
9
147
When a small group of military academy youths commit a mass suicide, the BAU team looks into the real reasons behind their actions. Meanwhile, Hotch and Morgan butt heads when a team member jeopardizes the case.
"The Bittersweet Science"
December 14, 2011
Janine Sherman-Barrois
Rob Hardy
10
148
The BAU team investigates a string of brutal beatings in Philadelphia and is led to the city's boxing scene in search of the killer. Also, Hotchner makes a connection with an attractive runner as they both train for a triathlon.
"True Genius"
January 18, 2012
Sharon Lee Watson
Glenn Kershaw
11
149
The BAU travels to San Francisco when a series of murders leads the team to believe the elusive "Zodiac Killer" might have returned. Meanwhile, Reid contemplates his own genius capabilities after he and Prentiss attend a seminar on violent crime hosted by the crime novelist Patricia Cornwell.
"Unknown Subject"
January 25, 2012
Breen Frazier
Michael Lange
12
150
The BAU searches for a serial rapist in Houston known as "The Piano Man" who has resurfaced and is attacking his previous victims. Meanwhile, Prentiss begins to deal with the traumatic experience caused by Ian Doyle after returning to the BAU.
"Snake Eyes"
Frebruary 8, 2012
Bruce Zimmerman
Doug Aarniokoski
13
151
The BAU is called to Atlantic City to investigate a series of ritualistic casino-related murders. Meanwhile, Garcia is concerned about her relationship with Kevin Lynch after the pair have a spat and she finds Morgan in her apartment dressed only in a towel.
"Closing Time"
February 15, 2012
Rick Dunkle
Jesse Warn
14
152
The BAU investigates the discovery of three bodies hidden in a lifeguard tower along the beach of the Southern California coastline. Meanwhile, Hotch asks Beth out on a date.
"A Thin Line"
February 22, 2012
Virgil Williams
Michael Watkins
15
153
When the BAU investigates a series of brutal home invasions and murders in the Inland Empire of Southern California that appear to be related to gangs, the investigation uncovers a more evil motive for the crimes. Meanwhile, Morgan and Prentiss have conflicting opinions after an FBI inductee training session ends on a low note
"A Family Affair"
February 29, 2012
Kim Harrison
Rob Spera
16
154
When the BAU travels to Atlanta to investigate the murders of women, the clues lead them to look for an unsub who is not working alone.
"I Love You, Tommy Brown"
March 14, 2012
Janine Sherman Barrois
John Terlesky
17
155
When married couples fostering young children end up being killed in Seattle, the BAU team looks for an unsub with a maternal-yet-murderous instinct. Meanwhile, Garcia fears a possible proposition from Kevin.
"Foundation"
March 21, 2012
Jim Clemente
Dermott Downs
18
156
When a scared, emaciated young boy is found in the Arizona desert and another boy winds up missing, the BAU begins searching for the abductor as Morgan, reaching into his own scarred past, tries to bond with the found child.
"Heathridge Manor"
April 4, 2012
Sharon Lee Watson
Matthew Gray Gubler
19
157
When an Oregon woman is found dead in an asylum, the BAU realizes that the victim is part of a series of gothic, ritualistic murders and the unsub might be a Satanist.
"The Company"
April 11, 2012
Breen Frazier
Nelson McCormick
20
158
When Morgan's sister sees a woman who looks like their presumed-dead cousin, it forces him to confront a lie he told his aunt last year to provide closure and compels the BAU to reopen the case of her disappearance.
"Divining Rod"
May 2, 2012
Bruce Zimmerman
Doug Aarniokoski
21
159
After a notorious serial killer is executed, a copycat begins murdering women in the same Oklahoma town and in the same fashion, and the BAU team must act fast before more victims are found. At the same time, Prentiss gets nervous at the thought of a major real-estate purchase.
"Profiling 101"
May 9, 2012
Virgil Williams
Felix Enriquez Alcalá
22
160
The BAU present one of the longest-tenured serial killer cases to an undergraduate Criminology college class, and they take the class through a seventeen-year chase for the murderer. Meanwhile, Rossi deals with personal demons concerning the case.
"Hit"
May 16, 2012
Rick Dunkle
Michael Lange
23
161
When a gang of lethal bank robbers initiates its latest robbery at a bank in Washington, D.C., the BAU tries to negotiate the unfolding hostage situation when the robbery turns south. The stakes begin to rise when one of their own earns the wrath of one of the bank robbers and later becomes a hostage.
"Run"
May 16, 2012
Erica Messer
Glenn Kershaw
24
162
As the BAU continues to pursue the bank robbers, the team determines that the suspects have a bigger target at D.C., and with one of the team still a hostage, they must work quickly to defuse an explosive situation. Also, wedding bells ring for one of the BAU, and Prentiss ponders over her future when an old acquaintance of hers makes her an enticing offer.
Highlights
Edit
Season Seven explains the return of Jennifer "JJ" Jareau and brings back Emily Prentiss to the BAU. Some details have been revealed such as that JJ is getting a promotion and Morgan's summer work will lead to discover that Prentiss is alive. [1] [2]
Throughout the season they intend to show more details of the agents' outside work, including meeting one of David Rossi's ex-wives [3] and JJ's home life, where it has been confirmed that Josh Stewart will return as William LaMontagne Jr. and A.J. Cook's son will continue to play JJ's son Henry.
References
Edit