Season One
Talk

0
960pages on
this wiki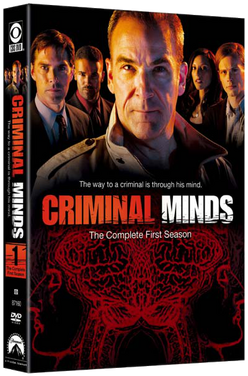 Season One was released on November 28, 2006. The DVD features 22 episodes on 6 discs with Special Features.
Season One averaged 12.63 million viewers and 4.5 ratings points in the A18-49 demo on CBS.
Image
Title
Airdate
Writer
Director
Season Episode
Series Episode
"Extreme Aggressor"
September 22, 2005
Jeff Davis
Richard Shepard
1
1
After a fourth woman goes missing in Seattle in a period of four months, the BAU is brought in to track down the abductor before he kidnaps again. Meanwhile, SSA Aaron Hotchner is asked to evaluate SSA Jason Gideon secretly to determine if he is really ready to work full-time again after returning from a six-month leave of absence.
"Compulsion"
September 28, 2005
Jeff Davis
Charles Haid
2
2
The team of investigators tries to capture a serial arsonist who has been terrorizing a college campus. Most of the evidence from the fires had been burned beyond recognition, so Gideon and the BAU must rely on psychological analysis to identify the firestarter.
"Won't Get Fooled Again"
October 5, 2005
Aaron Zelman
Kevin Bray
3
3
Gideon and the BAU track down a copycat bomber who has been terrorizing a quiet community. They determine the bomber is mimicking Gideon's nemesis, Adrian Bale, the man responsible for murdering Gideon's team in Boston several months earlier.
"Plain Sight"
October 14, 2005
Edward Allen Bernero
Matt Earl Beesley
4
4
The BAU travels to San Diego to stop a rapist and murderer who commits his crimes in the middle of the day. The suspect appears to blend into the neighborhood so well the local authorities have been unable to capture him.
"Broken Mirror"
October 19, 2005
Judith McCreary
Guy Norman Bee
5
5
The BAU investigates the kidnapping of a U.S. District Attorney's daughter and determines the kidnapper isn't seeking money - he is after her twin sister. The case becomes complicated because the kidnapper is always one step ahead of them.
"L.D.S.K."
November 2, 2005
Andrew Wilder
Ernest Dickerson
6
6
The BAU is asked to identify a killer who is shooting at victims in broad daylight, and the team works with local law enforcement officers to recreate one of the shootings.
"The Fox"
November 9, 2005
Simon Mirren
Guy Norman Bee
7
7
The BAU profiles a serial killer who takes families hostage and lives with them as a father figure during what is supposed to be their family vacations.
"Natural Born Killer"
November 16, 2005
Debra J. Fisher and Erica Messer
Peter Ellis
8
8
When an undercover cop involved in a mob investigation goes missing, the BAU believes a serial killer rather than the mob has something to do with his disappearance. The probe leads to several unsolved missing persons cases.
"Derailed"
November 23, 2005
Jeff Davis
Felix Enriquez Alcalá
9
9
Elle, along with many others, is held hostage on a train in Texas by a paranoid schizophrenic who is convinced that the U.S. government is monitoring him. Hotchner and Gideon are forced to play into the man's fantasy to save the people he has taken hostage.
"The Popular Kids"
November 30, 2005
Debra J. Fisher and Erica Messer
Peter Ellis
10
10
The BAU is called to investigate the murder of two small-town high school students who may have been victims of a cult killing. Based on the crime scene evidence, the team begins to believe it is possible that someone other than a cult member may be responsible.
"Blood Hungry"
December 14, 2005
Edward Allen Bernero
Andy Wolk
11
11
While Gideon is sidelined on crutches at FBI headquarters, Hotchner and the BAU go to Tennessee in an attempt to get inside the mind of a psychotic killer whose disorganized and erratic fantasies lead him to murder.
"What Fresh Hell?"
January 11, 2006
Judith McCreary
Adam Davidson
12
12
When a young girl is abducted in broad daylight from a playground in a seemingly safe neighborhood, the BAU initially believes her father is responsible. When he is able to provide an alibi, the team is forced to look for clues near where the girl lives to determine who is really responsible.
"Poison"
January 18, 2006
Aaron Zelman
Thomas J. Wright
13
13
The team travels to New Jersey where several people have been poisoned, one fatally, with LSD ten times more potent than the street version.
"Riding the Lightning"
January 25, 2006
Simon Mirren
Chris Long
14
14
After interviewing a married couple sitting on death row for serial murder, Gideon suspects the woman is actually innocent. But since she's set to be executed in two days, it's a race against time to prove it.
"Unfinished Business"
March 1, 2006
Debra J. Fisher and Erica Messer
J. Miller Tobin
15
15
A serial killer reappears after twenty years of silence and contacts the BAU through Gideon's retired mentor, who had made his life's work tracking the killer, with the promise he will kill another victim in the next five days.
"The Tribe"
March 8, 2006
Andrew Wilder
J. Miller Tobin
16
16
When college students in New Mexico are found tortured and murdered in an unoccupied house, the BAU suspects a group of killers with a knowledge of Native American rituals is responsible.
"A Real Rain"
March 22, 2006
Chris Mundy
Gloria Muzio
17
17
The BAU travels to New York City to investigate a series of murders that appear to have been committed by a vigilante who is exacting revenge on other criminals who have been released by the justice system.
"Somebody's Watching"
March 29, 2006
Ed Napier
Paul Shapiro
18
18
Reid finds himself in danger when he falls for a starlet whose stalker has turned into a killer. The starlet also becomes attracted to a certain member of the team.
"Machismo"
April 12, 2006
Aaron Zelman
Guy Norman Bee
19
19
The BAU travels to Mexico to aid in the capture of a serial killer who has targeted elderly women.
"Charm and Harm"
April 19, 2006
Debra J. Fisher and Erica Messer
Felix Enriquez Alcalá
20
20
The BAU works to capture a serial killer who has evaded capture by altering his appearance.
"Secrets and Lies"
May 3, 2006
Simon Mirren
Matt Earl Beesley
21
21
The BAU works with the CIA to identify a mole within that organization whose leaks are putting operatives at risk.
"The Fisher King: Part 1"
May 10, 2006
Edward Allen Bernero
Edward Allen Bernero
22
22
While on their separate vacations, each member of the BAU receives a clue from a psychopathic killer who challenges them to save his next victim.
Highlights
Edit
In Season One, Jason Gideon leads the BAU team along with fellow profilers Aaron Hotchner, Elle Greenaway, Derek Morgan, and genius-geek Spencer Reid. Their task is to establish psychological profiles of criminals and think as they do in order to solve heinous crimes. Some of the memorable cases during Season 1 include the "Footpath Killer," an LDSK (Long-Distance Serial Killer), and the season finale also introduces Randall Garner, a dramatic serial killer whose appearance also extends into Season Two.
DVD Special Features
Edit
The Making of Criminal Minds
Creating the Characters

Jason Gideon
Aaron Hotchner
Elle Greenaway
Derek Morgan
Doctor Spencer Reid
Jennifer "JJ" Jareau
Penelope Garcia

The Writing Process
Behind the Scenes
Criminal Effects
Who's Watching You?
Inside Quantico & The Criminal Mind
What is Profiling?
The Nature of the Criminal Mind
The Price
Meet Matthew Gray Gubler
The Gubler Home
The Gubler Look
The Gubler Art
Casting Gubler
Gubler on Set
Gubler's First Screen Kiss
Commentaries For
"Extreme Aggressor"
"Derailed"
"Riding the Lightning"
Easter Eggs (viewable on computer only)
The Gubie Awards (mouse over blank line next to "DRUG POSSESSION," click red X that appears)
Set Tour (mouse over space to left of cast picture, click red gun that appears)
External Links
Edit