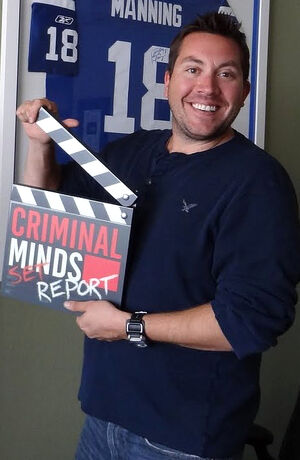 Richard Alan Dunkle is a script coordinator, story editor, producer, and writer on Criminal Minds.
Background
Rick Dunkle, born on October 24, 1978, studied broadcast journalism and theater at the local school for three years before leaving his hometown of Franklin, Indiana, for Los Angeles where he earned his B.A. in Cinema & Television Production from Columbia College Hollywood in 2002. While studying at CCH, Rick studied television drama writing under then Third Watch executive producer Edward Allen Bernero.
After finishing his first degree, Dunkle started work on his MFA in Screen-writing at Loyola Marymount University and began interning at Paramount Pictures in the Domestic Television Research department. His internship led directly to a full-time job as research analyst at Sony Pictures Television International where he studied viewing trends of audiences worldwide. He was promoted to lead ad/marketing copywriter for SPTI in January of 2005 and transitioned to working off-site when he accepted the position of Script Coordinator on Criminal Minds from former teacher now new boss Ed Bernero.
Dunkle finished his MFA in 2007 and began work that Fall on a PhD in Media Psychology from Fielding Graduate University. He soon began teaching, returning to his alma mater to offer a course in Psychology as it relates to film at Columbia College Hollywood. He began teaching Entertainment & Cross Promotions at Emerson College's Los Angeles Center in Fall 2008 and sold his first pitch to Criminal Minds in October. He has been the script coordinator on Criminal Minds since the pilot episode and started writing scripts during the fifth season of the series, and continued to do so until the tenth season. During the summer of 2015, it was confirmed that Dunkle has moved to the spin-off again as a full-time writer.
Criminal Minds
Episodes written by Rick Dunkle.
Dunkle was also a producer for the show from Seasons Eight to Ten, as well as a script coordinator from Seasons One to Four.
LINKS
Notes
Dunkle considers himself a Hoosier, even though he has lived, apart from Indiana, in New Jersey (where he was born), Pennsylvania, Wisconsin and California.
He's a declared, and proud to be, sci-fi/fantasy geek. His list of favorite shows include: Doctor Who (ever since the original series), Torchwood, Star Trek: TNG, Farscape, Battlestar Galactica (Ron Moore's version), and everything Joss Whedon (Buffy, Angel, Firefly, Dr. Horrible's Sing-Along Blog)… I still get all fan boy when Nick Brendon is on set.
He confessed he loves to travel, and as of 2009 he had been to forty-seven states and three continents… I want to hit every continent (including Antarctica) by the time I'm 40.
Ad blocker interference detected!
Wikia is a free-to-use site that makes money from advertising. We have a modified experience for viewers using ad blockers

Wikia is not accessible if you've made further modifications. Remove the custom ad blocker rule(s) and the page will load as expected.