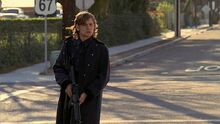 The M4 carbine is an American military weapon.
History
The M4 rifle family was developed from the M16 rifle, which was first used in the Vietnam War and in turn developed from the AR-15. There are several variants of the M4, including the MWS (Multiple Weapon System) version, the M4A1 and the SOPMOD (Special Operations Peculiar Modification) Block kits. Though the gun is U.S.-designed, it's used by military and law enforcement in other countries as well, including the British Special Air Service, the Australian Special Operations Command and many law enforcement agencies all over Europe. It is currently in use by U.S. forces in Afghanistan.
Specs
Cartridge: 5.56x45mm NATO
Action: Gas-operated, rotating bolt
Weight: 6.36 lb. (2.88 kg.) (empty), 7.5 lb. (3.4 kg.) (loaded with 30 rounds)
Length: 33 in. (840 mm.) (with stock extended), 29.75 in. (756 mm.) (with stock retracted)
Barrel Length: 14.5 in. (370 mm.)
Capacity: 30 rounds min.
On Criminal Minds
The M4 was used by Long Distance Serial Killer Phillip Dowd. He killed two people and wounded eight others. He meant to only wound victims so that he could save them in the hospital. One incidentally died because of delay of emergency personnel, while his last victim was killed intentionally.
Attempted copycat Henry Frost was equipped with an M4 while holding a hostage.
Teenage spree killer Owen Savage used an M4 to kill most of his victims.
Serial-turned-spree killer Ronald Boyd used an M4 mounted on his ATV while attempting to escape the BAU.
Two unnamed terrorists used M4s during a gunfight with Blake, Morgan, Reid, and Rossi.
Gallery
External Links
Ad blocker interference detected!
Wikia is a free-to-use site that makes money from advertising. We have a modified experience for viewers using ad blockers

Wikia is not accessible if you've made further modifications. Remove the custom ad blocker rule(s) and the page will load as expected.