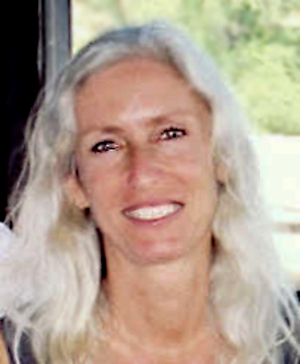 Katarina Wittich
(sometimes credited as
Kato Wittich
) is an American television writer.
Biography
Edit
Wittich is a native New Yorker now living in Hollywood, where they make movies about the "Wild West". She graduated Cum Laude from Yale University and earned her MFA from New York University Graduate School of Film and Television. After many years as a First Assistant Director she has now begun to concentrate on writing and directing her own projects.
In the 1980s, she started a career in the entertainment industry by serving as an associate producer for the 1984 film Perfect Strangers, being credited under the name of Kato Wittich. Two years later, she portrayed a gym teacher in Joey, retaining her stage name; this was followed by a directing credit for the TV show Tales from the Darkside during the following year. Wittich also served as a first or second assistant director for several feature-films during that time period. In 1989, Wittich became an assistant director for nearly two dozen episodes for Tales from the Darkside. She continued assistant-directing feature-films until 1993, to which Wittich became inactive until 2001, when she garnered her first writing credit, writing for the home-video Red Shoe Diaries 17: Swimming Naked. A decade later, Wittich wrote an episode for the CBS-produced series Criminal Minds. She currently hasn't acquired any other TV credits since.
Criminal Minds
Edit
Wittich has written Corazón, her only episode for Criminal Minds to date.
Ad blocker interference detected!
Wikia is a free-to-use site that makes money from advertising. We have a modified experience for viewers using ad blockers

Wikia is not accessible if you've made further modifications. Remove the custom ad blocker rule(s) and the page will load as expected.