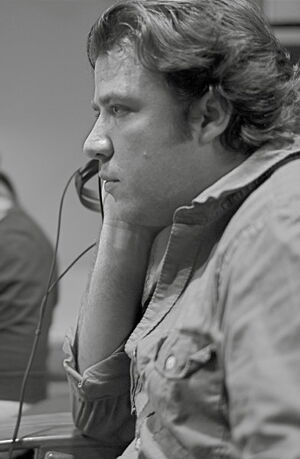 Jess Prosser
is an American production assistant.
Biography
Little is known about Prosser's early life. In 1999, he started a career in the entertainment industry, serving as a production assistant for the 1999 TV series Third Watch. He has since become a production assistant for several feature-films, including Spider-Man 2, Empire, and Super Trooper. He has also extended to being a second unit director for the 2002 short The Life and the 2003 film Red Betsy, an actor for the made-for-TV film Kayak Free Kayaking (in which he played a hipster friend), and writer for an episode for Criminal Minds. Prosser has since been promoted to part of the production staff for another episode for Criminal Minds, as well as an episode for the latter's short-lived spin-off Suspect Behavior.
Criminal Minds
Prosser has written Public Enemy, his only episode for Criminal Minds to date.
Ad blocker interference detected!
Wikia is a free-to-use site that makes money from advertising. We have a modified experience for viewers using ad blockers

Wikia is not accessible if you've made further modifications. Remove the custom ad blocker rule(s) and the page will load as expected.