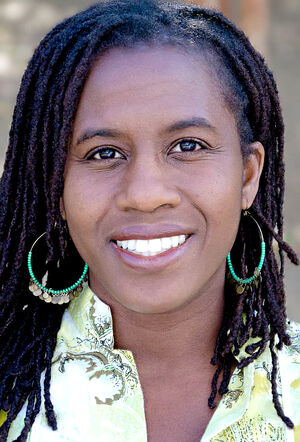 Hanelle M. Culpepper is an American director, producer, and writer.
Biography
Edit
Culpepper was born in Birmingham, Alabama. During her senior year of high school, she decided that she wanted to become a director. After attending Lake Forest College in Chicago, Illinois (being a summa cum laude graduate), Culpepper moved to Los Angeles, California, to start studying at the University of Southern California. After a while, she tried to start her career by writing a script about two African-American women during a certain time period (which isn't specified). However, Culpepper found it hard to sell the script due to its unappealing content at the time and the fact that she hadn't directed anything else prior. She then received a job at the Sundance Film Festival, where she was inspired by the aspiring directors and their creative independent works, prompting her to quit and start filming a movie.
In 2003, Culpepper wrote and directed the short film A Singel Rose, for which she won a Sacramento GAFFERS award the following year for Outstanding Director. In 2009, Culpepper directed her first feature-film, named Within, after it was approved by a movie company named Bigfoot that specialized in low-budget films. She then wound up selling the movie to Lifetime, with the staff liking it so much that they had her direct three more films for them. Next, she became a member of the NBC diversity directing program, which allowed her to direct an episode of the TV series Parenthood. Culpepper then went on to direct an episode for Criminal Minds during its ninth season and is expected to direct another for the following season. More recently, Culpepper has founded her own production company, Hillview 798, and spends her spare time with her husband and son.
Criminal Minds
Edit
Culpepper has directed the following episodes for Criminal Minds:
Ad blocker interference detected!
Wikia is a free-to-use site that makes money from advertising. We have a modified experience for viewers using ad blockers

Wikia is not accessible if you've made further modifications. Remove the custom ad blocker rule(s) and the page will load as expected.