"
I'm pissed off at Ritchie and David because they did all the killings. He said they used his gun to kill the victims ...He indicated that a plastic bag would be placed over the victim's head and secured around the victim's neck with black electrical tape ...[T]he victims were shot in the head.
"

— Mendenhall
Bruce D. Mendenhall, a.k.a. "The Prosti-Shooter", "The Rest Stop Killer", and "The Truck Stop Killer", was a convicted murderer who is currently under investigation for several additional murders in several U.S. states.
Background
Little is known about Mendenhall's early life, other than he grew up in Crawford County, Illinois, and moved to Albion, Illinois. As an adult, he was married to a woman named Linda Kohler, who was reported to be blind from diabetes, and had two daughters with her. He was known to have been hot-tempered and loud, but also standoffish. Mendenhall once attempted to become the mayor of Albion after becoming angry with the city for forcing him to removed useless vehicles from his property. However, he lost, with only 49 votes in his favor. Despite never having any significant problems with the law, he illegally kept a gun of an unspecified model in his truck. This was known to Linda and his friends, but no one bothered to report it. Mendenhall eventually got a job as a trucker and worked as one for eighteen years.
Capture, Investigation and Incarceration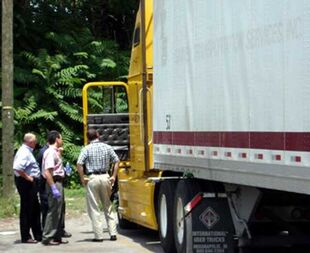 On June 26, 2007, the body of Sara Hulbert, a 25-year-old prostitute from Ashland, Tennessee, was discovered a considerable distance away on Interstate 24, located near Nashville. Ten days prior, 48-year-old Symantha Winters, also a prostitute, was found near Lebanon, killed and dumped in the same manner as Hulbert. Due to the amount of differences between the two victims, police were unsure if the cases were connected. On July 12, three weeks after Hulbert's discovery, police announced the arrest of Mendenhall, 56 years old at the time. He was apprehended after making stopping his truck at a nearby truck stop. There, Detective Sergeant Pat Postiglione, working on an unrelated case, recognized Mendenhall's truck from surveillance footage that was taken on the night Hulbert was killed. Postiglione inspected Mendenhall and the truck, noticing blood on Mendenhall's hand and in the cab. A plastic sack containing bloody clothing was also found. A search warrant later recovered over 300 items from the truck, including a .22-caliber handgun, a rifle, weapons cartridges, a razorblade, black tape, latex gloves, a nightstick, condoms, and sex toys. DNA sampling of the items revealed matches to five different women.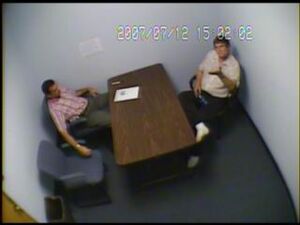 Mendenhall was held in a Nashville jail without bail and was appointed his own lawyer. During his incarceration, he confessed to the murders of several prostitutes and other women, providing details about them, including their deaths. Eventually, in addition to Sara Hulbert, Mendenhall was charged with the murders of Symantha Winters and 44-year-old Lucille Carter, all of whom were shot with a .22-caliber handgun. Simultaneously, police began investigating over more unsolved cases involving female prostitute victims, believing Mendenhall claimed more victims in addition to his confessed murders. Among the results of the investigation was the identification of the blood in the cab of Mendenhall's truck; it belonged to Latisha Milliken, a female drug addict from Millersville, Tennessee, who had been missing since February. Police also considered the possibility of Mendenhall being connected to the murder of 24-year-old prostitute Jennifer Smith, who had been found in a Bucksnort, Tennessee truck stop. Despite the similarities between Smith and the other victims, the connection was never made official and another trucker,
John Wayne Boyer
, was later indicted for Smith's murder.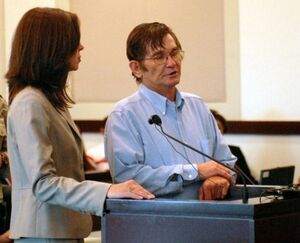 Next, police began investigating into the possible connection between Mendenhall and 21-year-old Tammy Zywicki, a 21-year-old college student who disappeared on August 23, 1992 after dropping off her younger brother; her body was then found on September 2 of the same year. However, it should be noted that Tammy Zywicki was (very surprisingly) completely different from the other victims: she wasn't a prostitute, she was athletic, and she was an all-around average girl. Authorities still consider the possibility that Mendenhall murdered Zywicki, though. Mendenhall was later found guilty of the murder of Sara Hulbert and subsequently sent to prison. During his incarceration, Linda died of natural causes and left insurance money behind. Wanting to acquire the money, Mendenhall, on two separate occasions, approached a fellow inmate and offered him $15,000 to murder three associates that were initially accused by him for being the Prosti-Shooter. One of these murders was to be committed in a "copycat" fashion to fool authorities into thinking that the real killer was still on the loose. However, he was caught and sentenced to an additional thirty years in prison for conspiracy to commit murder. Mendenhall still remains incarcerated and continues to be a suspect for his alleged victims.
Modus Operandi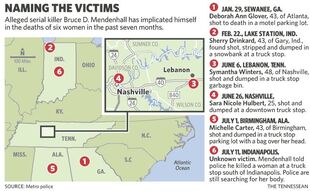 Based on his murder of Sara Hulbert, Mendenhall's victims were prostitutes who were picked up at truck stops and killed by shooting with a .22-caliber handgun. However, if Mendenhall is responsible for all of his alleged victims, then he would've also targeted other women and killed his victims through various other means, such as stabbing (in the case of Tammy Zywicki) and running over (in the cases of Robin Bishop and Belinda Cartwright).
Known Victims
Note: The dates and locations denote when the victims were discovered
June 26, 2007, Nashville, Tennessee: Sara Hulbert, 25 (shot with a .22 handgun)
Possible
Other people whose deaths have been suspected to be committed by Mendenhall
September 2, 1992, unknown location in Missouri: Tammy Zywicki, 21 (a student; stabbed seven times in the chest and once in the arm)
Unspecified date in 2001, Valdosta, Georgia: Belinda Cartwright (was run over with a big rig truck while hitchhiking)
2007:

January 29, Suwanee, Georgia: Deborah Glover, 43 (shot)
February (date of disappearance), Millersville, Tennessee: Latisha Milliken (her blood was found in Mendenhall's truck)
February 22, Lake Station, Indiana: Sherry Drinkard, 43 (shot in the head)
June 6, Lebanon, Tennessee: Symantha Winters, 48 (shot with a .22 handgun)
July 1:

Birmingham, Alabama: Lucille Carter, 44 (shot with a .22 handgun; a plastic bag was taped around her head)
Fairview, Tennessee: Robin Bishop (was run over)

July 11 (date of disappearance), Indianapolis, Indiana: Carma Purpura, 31 (body was never found; alleged to have been killed by a shot to the head)
On Criminal Minds
Mendenhall was mentioned in the Season Four episode "Catching Out" by Reid when it was initially theorized the unsub used a truck to travel between the locations where his murders occurred.
He also seems to have been an inspiration for Wade Hatchett ("Solitary Man") - Both were truckers who targeted women and operated across state lines (though the latter fact is currently unconfirmed with Mendenhall himself).
Sources
References
↑

Should it apply to the fact that he was responsible for the deaths of his suspected victims